Youth Mental Health Project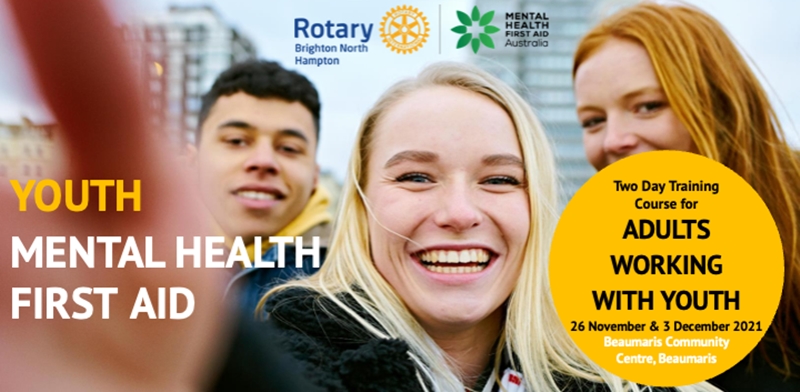 An initiative of the Youth Committee, the Youth Mental Health Project is a long-term program to be implemented across Bayside over a number of years. The objective of the project is to deliver mental health first aid courses that will ultimately improve the mental health of youth in our local area.
Hampton Rotary have entered a partnership with the Rotary Club of Brighton North (from District 9800) for the roll-out of Mental Health First Aid courses in two areas:
Youth Mental Health First Aid- this course targets adults who work with youth, such as school staff, parents, sports coaches, community group leaders, youth leaders, police. - adults learn how to assist adolescents who are developing a mental illness, experiencing a worsening of an existing mental health problem or in a mental health crisis, until appropriate professional help is received or the crisis resolves.



Teen Mental Health First Aid- this course is for high school students in years 7-9 and years 10-12. Students learn about a range of mental health illnesses such as depression and anxiety, eating disorders, suicide tendencies, and how to provide support and mental health first aid to their friends.
We were thrilled that the first Youth Mental Health First Aid training course held in March 2020 at the Beaumaris Community Centre, was fully booked and had participants from a cross-section of organisations, from primary and secondary schools, community service groups, police and education consultancies.


Everyone came away with a better understanding of what signs to recognize when youth are struggling with their mental health, and strategies for how best to assist them.

This is an exciting and important project, particularly given the mental health issues arising during the COVID lockdowns.
New Course Dates Just Released – 26th November & 3rd December 2021
After the success of the first course held in March 2021, we've announced additional dates for the Youth Mental Health First Aid training course, to be held on the 22nd and 29th October. This course is now fully booked and we have set-up a waiting list for people who would still like to attend and be advised of additional course dates when these are announced.
The Youth Mental Health First Aid course is an accredited course developed by Mental Health First Aid Australia and is particularly suitable for teachers, school wellbeing officers, sports coaches, youth workers and support staff, and police.
Course attendance is FREE so if you would like to be added to the waitlist, please go directly to the Trybooking event link here and add your name to the waitlist:
https://www.trybooking.com/BSZTX
For further information you can also visit the website at:
https://youthsuicideawareness.com.au/training/
Further enquiries can be directed to:
Christine Lindsey
Chair – Youth Committee
Email: Christine.lindsey@gmail.com
Share this with your friends