Tree Planting Challenge
Plant-A-Tree is a Rotary project rolled out around the globe ……and it now comes to Bayside! Rotary International President (2017-2018), Ian Riseley, former resident of Bayside, set a global challenge of planting 1.2 million trees in 2018 (one for each & every Rotarian)! This was in response to the recognition for Rotary to take a proactive approach to environmental sustainability and find ways to address concerns arising from climate change and global warning.
With generous support from Citywide, the Bayside City Council's garden contractors, the Rotary Club of Hampton initiated a community project to plant trees along the Sandringham foreshore. Only indigenous tree stock was planted….and these were generously donated by Citywide! More than 30 Rotarians and friends from the Rotary Clubs of Hampton and Sandringham, as well as volunteers from the local community, joined together in June 2018 to plant hundreds of trees and plants along the foreshore.
What a great project that delivered a real environmental impact for the Bayside community foreshore.
The next challenge will be on Saturday 6 July 2019
For details, contact:
Geoff Tickner,
Rotary Club of Hampton
Mobile: 0412 834 347
Email: Geoffrey.tickner@bigpond.com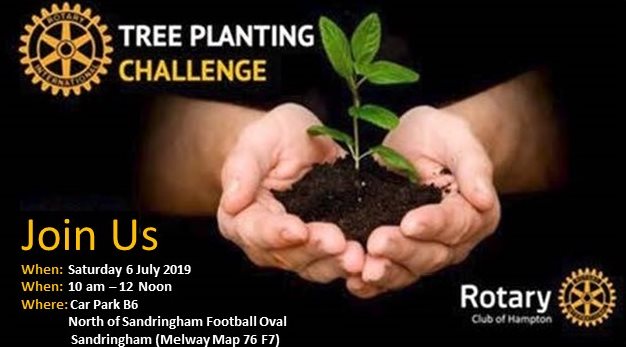 Share this with your friends